A Word from the President on Smart Meters and Carbon Capture and Storage
December 16, 2016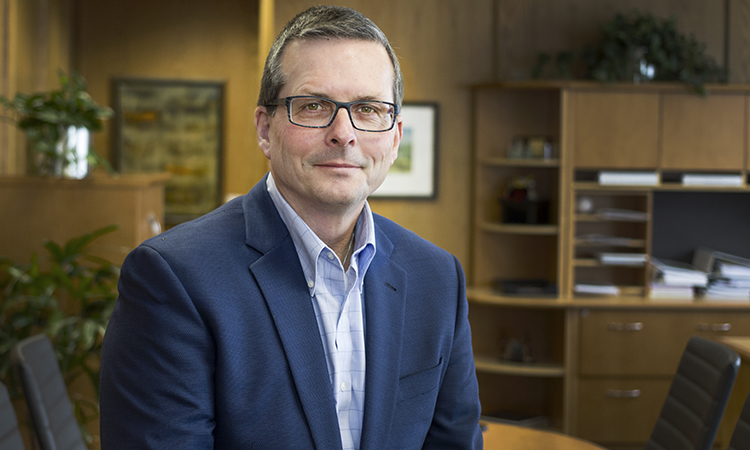 You may have heard many things about SaskPower projects recently and I wanted to take this opportunity to clarify some of the details and what you can expect from your power utility.
Carbon capture and storage (CCS)
We are proud to lead the way on this technology that allows us to keep producing affordable coal power, but in a way that is much cleaner. Unit 3 at Boundary Dam Power Station in Estevan is the cleanest-burning fossil fuel unit in Canada. It brings us power with less greenhouse gas emissions than any coal or natural gas unit. It's something I know the 350 SaskPower workers at Boundary Dam are proud of, and it's a world-first that all of Saskatchewan should be proud of.
Worldwide, coal is not going away. SaskPower is advancing a technology that organizations like the United Nations and International Energy Association have noted is essential in the battle against climate change.
Any new technology has a cost and at approximately $1.5 billion (including the federal government's contribution of $240 million), it was a significant investment. To put that into context, it's part of more than $7 billion we've invested in the provincial power grid in the past decade. There's notably another $9 billion dollars to be invested in power generation by 2030, of which $6.5 billion will be invested in renewable technologies by 2030. This includes the additional $1.5 billion investment into green energy*. Just for wind, this will mean increasing our capacity by more than 700%. It's a commitment to a greener power grid, reducing our greenhouse gas emissions by up to 40%, and CCS is a part of that. Our CCS project is also a way to test how this technology works in Saskatchewan's context as carbon and coal regulations force us to make important decisions on the seven coal units that bring power to our homes.
For 12 months now, we've posted monthly updates sharing all performance from that power unit and CCS facility. And it's not just for appearances. We made a commitment to transparency and on two occasions, notably shared some ongoing issues with the amine chemical solvent at the core of our CCS process.
Amine
You have likely heard amine and the cost to maintain it mentioned in the news. But what is it, and what part does it play in capturing carbon dioxide? Like the oil in our cars, every time you use it, a small portion degrades and become less effective. That's why we get periodic oil changes. In the CCS process, we use amine to strip carbon dioxide and sulphur dioxide from coal emissions. Once we use it, we send it through a filtration system and it goes back for another round of capture. Every time, some of it degrades. This wasn't an unknown piece of maintenance, but the speed at which it happens is faster than expected. That means more costs for cleaning' and to add new amine more frequently than planned:
| | Forecasted Budget | Actual Spend |
| --- | --- | --- |
| Jan.-Dec. 2015 | $5 million | $17.3 million |
| Jan.-Dec. 2016 | $12 million | $14.6 million |
This is part of more than $490 million SaskPower spends to maintain its $10 billion of assets annually. As you can see, we spent more than planned on amine maintenance. We also learned, and we increased our forecast for 2016-17. We found ways to address the issue by half and that's largely how we went from capturing 400,000 tonnes of carbon dioxide in year one to 800,000 in year two of operation. That doesn't mean the issue is solved. We're forecasting approximately $15 million for amine maintenance in 2017 and our engineers are hard at work to keep improving how this complex chemical process performs.
Selling carbon dioxide
Unit 3 at Boundary Dam is also powering around 100,000 homes and we sell most of the captured carbon dioxide to our buyer, Cenovus. Our arrangement with them is set up in a fairly routine way for such contracts. Cenovus orders what they need in a given day, which must be at least a minimum contracted daily amount. This amount is confidential as part of the contract, but I can share that it is somewhere between 50 and 99% of our maximum production. In a day, if we don't meet the daily request, usually due to unplanned outages, it becomes a shortfall that we must pay. This is tallied monthly and this year, we incurred some shortfalls in six separate months. Those weren't insignificant, but they were much smaller than the revenue the contract produced.
Here's how 2016 breaks down, with a bit of estimation for the rest of December:
| Estimated CO2 Sales | Estimated Shortfall | Estimated Net Revenue |
| --- | --- | --- |
| $18 million | $2.5 million | $15.5 million |
In 2017, our goal is to make this as efficient as possible. We will meet federal emission regulations on coal units and the needs of our buyer, no more and no less. SaskPower is always looking for ways to make all of our facilities as efficient as possible. At Boundary Dam, SaskPower will continue to look at additional opportunities to increase CO2 sales.
We will continue to communicate on this power unit openly at home, and with the many international delegations that continue to visit the Estevan power station to see how CCS can be a greenhouse gas solution where they live.
Smart meters
I said at the end of 2014 that it was unacceptable how 10 of the more than 100,000 installed smart meters failed. We value the confidence you have in SaskPower as your power provider, and we learned much from that experience. SaskPower will not compromise on safety. At the time, our meters met the industry standard. This meant one thing: the standard was unacceptable. We've since worked with our peers across the industry to create a new Canadian standard for smart meter safety and performance. Any new meter we take forward will need to meet this new benchmark, along with the extra testing and due diligence that goes with it, including failing in an entirely safe manner if the meter stops working. In the coming years, we will continue to rigorously test meters before formally seeking approval from our Board and before coming back to our clients.
The communications grid we put in place in advance of smart meter deployment is still in place and this will work to bring many benefits to SaskPower, and to you and I at home. Smart meters will allow for two-way communication which will make pinpointing outages more efficient than ever before. Right now, we need to rely on you to call us in an outage to figure out exactly where a pole may have broken or a transformer may have failed. That takes time in our cities, but in rural settings, it can take even longer to patrol lines between farms until we find the issue. In northern forests, we may even have to wait for daylight to patrol lines through the trees via helicopter. All of this means that it can take a long time to find and fix outages so your power can be restored. The improved system will tell us where an outage is, exactly and immediately.
For customers, in addition to having outages addressed more quickly, we will be able to have real-time billing. That means no more estimates that need periodic adjustments, but actual billing for exactly the kilowatt-hours you use daily. It will also mean the ability for you and I to monitor our usage in real time from our computers or smart phones. That means we can make energy efficient choices in our homes and track real-time progress. SaskEnergy currently uses this communications grid for their new natural gas modules in your homes. You may already have noticed more accurate billing from them. With your support, you and I will also be able to benefit from a smart power meter much like the 70 million homes and businesses in North America that currently have one. The residential deployment of smart meters will not happen until at least 2018. Safety and two-way dialogue will be our priorities.
Non-residential smart meters
Many of Saskatchewan's largest users of electricity, our commercial and industrial customers, have already been asking us for smart meters, because of all the benefits listed above. The industrial and commercial smart meter is a different make and model from the residential one and we plan to roll these out to many mines, oilfields, and others that want them, starting in 2017.
As with CCS and renewables, smart meters are taking us to the power grid of tomorrow. It will be more responsive, will have more participation from customers and will have a shrinking impact on the environment. But we need to do this safely, transparently and by keeping the need for rate increases low, and in line with inflation.
We'll keep talking about this publicly, and I want to hear from you. If you have a question or concern about the future of Saskatchewan's power grid, let me know at Mike@saskpower.com. I won't promise to read them all personally, but each will be read, answered and potentially go into our future power plans.
Sincerely,
Mike Marsh
* Correction: this information has been updated to more accurately reflect the total planned spend for renewable technologies by 2030.
Learn more: