Reduce or eliminate the risk and inconvenience of working around overhead power lines in farmyards.
Our primary 25 kilovolt (kV) or 14.4 kV overhead power lines that are located within farmyards can be replaced with safe and convenient underground cables.
Cost-Shared Approach
We'll invest a major portion of the cost to bury or relocate overhead power lines in farmyards. We will invest 75% and all you pay is 25% of the total construction cost to a maximum of $2,000.
Eligibility
E34 farm rate customers are eligible for the Farmyard Power Line Relocation program. Not sure if you're a E34 customer? Check on your power bill on the left-hand side under "GST Registration Number" or contact us.
How to Apply
Determine whether or not you are eligible for the program.
Call us at 1-888-757-6937 or apply online.
Provide follow-up information to us (if this is required, we will contact you).
Review your formal quote, which outlines the cost and details that apply to your situation.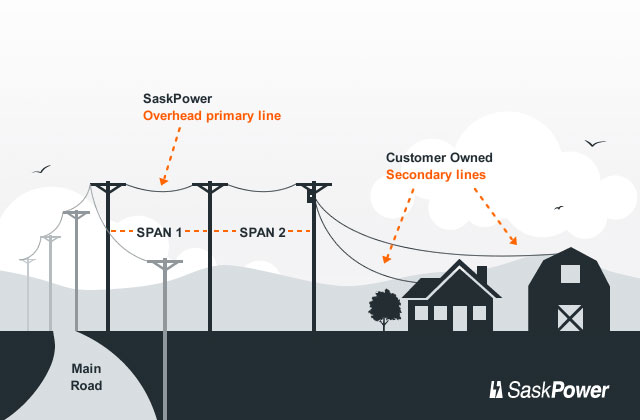 Installation Details
If your farmyard is eligible, the overhead primary line will be installed underground using the most economical methods, without compromising our construction and safety standards. The existing overhead transformer pole will be replaced with a pad-mounted transformer. You will be responsible for burying any private power lines.
Pole Transfer Agreement
At your request, the existing overhead transformer power pole may be left for your convenience. If your request is approved, we will remove all hardware and you can assume ownership by signing a pole transfer agreement.
Approved applications
This popular program has a limited annual budget and all applications may not be approved in the same year in which you apply. Approved applications will be carried out subject to annual construction schedules on a first-come, first-paid, first-served basis.
Provide Your Feedback