2016 United Way Campaign Comes to a Close
December 05, 2016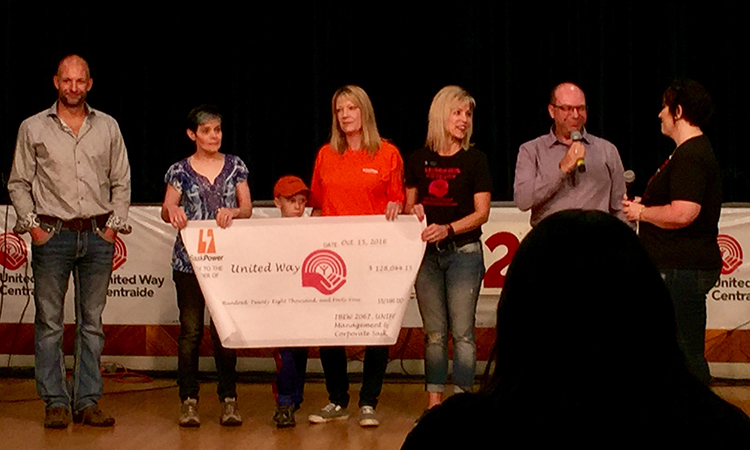 In a year where many individuals and families in Saskatchewan are feeling the pinch, the work the United Way does around the province is needed more than ever. In true SaskPower fashion, our employees powered ahead and raising $304,057 including a corporate pledge to match employee donations dollar for dollar.
"We have amazing employees who are committed to helping their communities even in uncertain economic times," says Lara Hubenig, Community Partnerships and Investment Specialist.
Estevan employees topped the charts, exceeding their $60,000 employee donation goal. Together with SaskPower's dollar for dollar match, they were able to present a $128,044.15 cheque to the United Way of Estevan, their largest donation ever.
In other areas around the province, the Fletcher Road building in Saskatoon also exceeded their total donation goal of $25,000, raising $39,516 with the corporate match. There was even an internal bet going on at Fletcher Road. Ethan Sawchuk, Environment Performing and Reporting Specialist, had agreed to chop off his dread locks if Fletcher Road's goal was met.
When Ethan was first approached by his local canvasser team asking if he would consider putting his dreads on the chopping block, he was hesitant.
"I'll admit the thought of cutting off my hair was a bit unsettling at first," says Ethan. "However knowing it was for a great organization, I said yes. Dreads are knotty but not making every reasonable contribution to end poverty would be naughty."
This year was also notable for the United Way as campaigns in Regina, Weyburn and North Battleford were done completely online. Next year's goal is to extend the paperless campaign to Saskatoon and Estevan.
"There were a few glitches early on with the e-pledge campaign, but most people found it easy to donate online," says Hubenig, "And it is the environmentally responsible way to go."
Saskatchewan is a generous province and as one of Saskatchewan's Top Employers, SaskPower has proven once again that we are here to help out our province through the United Way.
"Whether it's fighting poverty, finding solutions to homelessness or improving education for young people, the United Ways in Saskatchewan are on the front lines when it comes to helping our communities become stronger," says Verna Williamson, Manager, Community Partnerships and Investment. "A huge thank you goes out to SaskPower employees for their contributions to our campaign."
Learn more:
Our Company and Strategic Direction