5 Questions with Emma on Women in Skilled Trades
December 15, 2022
We sat down to talk to Emma — a female power line technician (PLT) to learn more about her experience pursuing a career in a skilled trade with us.
1. What led to you becoming a PLT?
After exploring different career paths, I got a chance to talk to a SaskPower Journeyperson PLT and learned about their experience in the PLT trade. Their encouragement and praise for the profession excited and prompted me to apply to a Labourer position that served as a steppingstone toward my PLT apprenticeship.
Six months after being hired as a Labourer, I was invited to attend the Skills Assessment and Trade Orientation (SATO). SATO is a hands-on skills assessment where you're evaluated on how well you complete the tasks and how suitable you are for the job. I passed the assessment and became a PLT apprentice.
2. What does a typical workday look like for you?
A typical workday on a crew usually starts in our office. That's where we all meet before heading to the job site. After we're made aware of the plan, we prepare the trucks and grab the materials/tools needed for the day.
I work on the maintenance crew, which means there's a great variety in our work and the opportunity to learn something new every day. That can include working on power poles, transformers, and switches.
On days we're unable to be out in the field, we work in the shop and prepare for the upcoming fieldwork.
3. What's your favourite aspect of being a PLT?
Teamwork is my favourite aspect of the job! Everyone works together and is willing to help each other to get a job done safely and efficiently.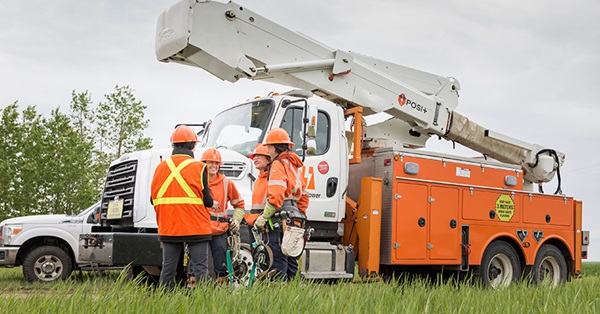 4. Do you feel supported in a male-dominated trade?
I've been quite lucky to have the experience I've had. Working on a Saskatoon crew, I've received nothing but a positive response from all my co-workers. Without their support, and more specifically, the support and patience of my foreman, I wouldn't be in the position I'm in today.
5. What's your best advice for women exploring entering a skilled trade?
Show up with a good attitude, be attentive and ready to work hard. You don't know until you try! If you'd asked me a year and a half ago what I thought I could achieve, my answer would have been nowhere close to this. Since starting this career path, I've pushed myself further than ever before. SATO was not easy. Get all the experience you can. Take job opportunities, and even if they seem unimportant, those are the ones you learn the most from.
There are many opportunities for women wanting to build a career in the trades, but you have to be willing to go outside your comfort zone, which is essential. Although it may be challenging, it's not impossible, and it shouldn't discourage anyone from trying out the trade. Perseverance and hard work are the key.
Find your next career by visiting saskpower.com/careers.
Learn more:
Provide Your Feedback