Finding Your Place in Skilled Trades as a Female
January 24, 2023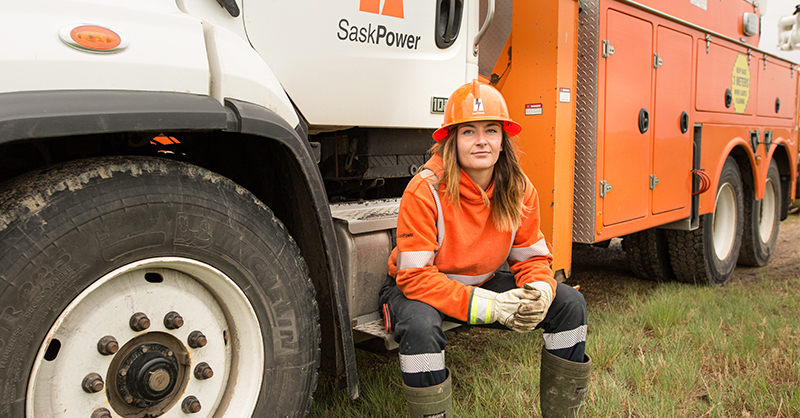 As the times change, so does the presence of women in the skilled trades. We're seeing more and more women entering this line of work, although it's a male-dominated industry. We encourage gender diversity in all professions, but especially in those traditionally dominated by men — like the skilled trades.
We sat down with Lia, a Power Line Apprentice, to learn more about her experience pursuing a career with us.
How did you learn about this career path?
I learned about the Power Line Technician (PLT) trade when some of my friends started a career in the field. I saw my friends passionate about their work, and this inspired me. They would share photos and videos of them working, and from that — I knew it was something I would love to do.
How did you start? Tell us about your journey.
My journey began in January 2021 when I started as a Utility Worker. Among various work-related tasks, I was given an opportunity to travel around Saskatchewan and experience different work operations.
This included assisting with inspections of:
distribution construction
substations
terminations
It was beneficial to be exposed to so many facets of the company.
Fast-forward to March 2022 — I suffered a substantial concussion. Because of this I had to take time off work. It was a tough recovery. Although this was a setback, I've never been more determined in my career path! I'm now in the beginning stages of my apprenticeship towards becoming a Journeyperson PLT.
What does your typical workday look like?
Every day, we travel and work somewhere new! We start by meeting at our shop to plan our day. We then begin our travels and work for the day. Travelling to somewhere new regularly keeps every day as exciting as my first day of work.
My experience with SaskPower has opened my eyes to our beautiful province. One of my most memorable experiences was a time experiencing Saskatchewan's extreme weather. After determining it was safe to travel, by completing a hazard/aspect and risk assessment, we drove through 4 different storms in 1 day. This is only one of the many great experiences, I feel fortunate and grateful to be part of the crew.
What is the most challenging part of the job?
The most challenging part of our job would be the unpredictable weather in Saskatchewan. Sometimes we work in unfavourable weather conditions. In summer we sometimes work in up to 40-degree weather, and in winter down to minus 40 degrees.
What's your favourite part of the job?
One of my favourite aspects of working on the maintenance crew is being able to work outside every day and learn from great people. The work is extremely rewarding. I love being able to arrive at a job site, problem-solve, find a solution, and watch everything come together.
Learn more:
Provide Your Feedback