Renewable Power Update: Fall 2021
September 07, 2021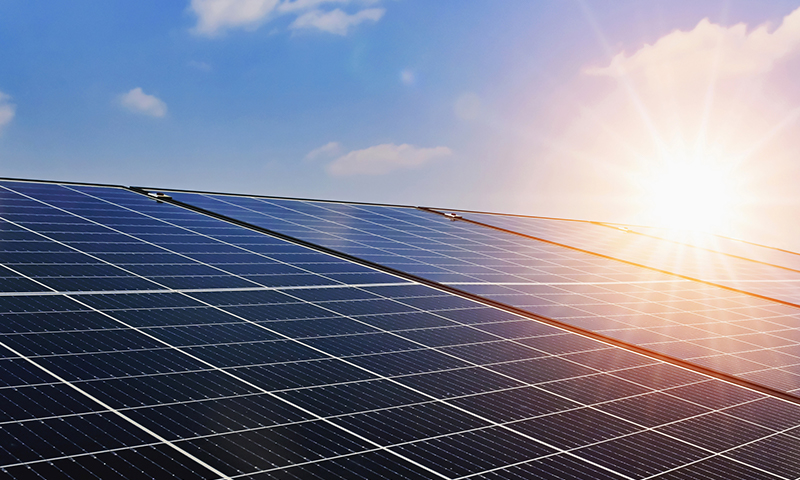 We're on track to reduce greenhouse gas (GHG) emissions by at least 50 per cent from 2005 levels by 2030. Renewable power generation is key to reducing GHG emissions. After a busy construction season, we wanted to share an update on renewable power generation in Saskatchewan.
How much of SaskPower's generation comes from renewables now?
Currently, 25% of our generation comes from renewable sources:
17% from hydro produced in Saskatchewan — about 864 megawatts (MW)
5% from wind — about 244 MW
3% from hydro bought through Power Purchase Agreements from Manitoba — about 125 MW
Are there other renewable power projects underway?
Yes, four projects are under construction:
Saturn Power is building the Highfield Solar Facility in the Rural Municipality of Coulee. Once it's connected to the grid in October it will generate 10 MW of power
The Riverhurst Wind project will add 10 MW to the grid when it comes online in late September
The Blue Hill Wind project near Herbert will add 175 MW to the grid when it comes online in November
The Golden South Wind Energy Facility near Assiniboia will also come online in November and will add 200 MW to the grid
What's next once those projects are online?
There are another four projects in the works:
Kruger Energy Saskatchewan will begin construction on the Foxtail Grove Solar Facility later this year. Located in northeast Regina it will produce 10 MW of power
Awasis Solar Facility is a partnership between Cowessess First Nation and Elemental Energy. Once complete the facility will produce 10 MW of solar power
Pesâkâstêw Solar Facility is a partnership between George Gordon First Nation, Star Blanket Cree Nation and Natural Forces. Once complete the facility will produce 10 MW of solar power
The Bekevar Wind project near Moose Mountain Provincial Park will add 200 MW
Plus, we expect to see another 20 MW of solar power added to the grid through community-based projects in the Power Generation Partnership Program.
I've heard mixed things about wind power. Is it good for the environment?
Some of things we consider when we look at the environmental impact of a supply option are:
GHG emissions created by power generation
GHG emissions created throughout the lifecycle
Impact to wildlife
Impact to the land
Let's look at how wind stacks up:
Wind power creates zero GHG emissions — unlike energy fuelled by coal or natural gas
The lifecycle (fabrication, installation, etc.) of a wind turbine produces fewer GHG emissions than the lifecycle of power plants that use coal or natural gas — though solar, hydro, and nuclear have low lifecycle GHG emissions too
When a wind turbine reaches the end of its life, producers must:

meet decommissioning and remediation requirements in Saskatchewan
meet landfill bylaws
meet landowner lease agreements

Wind towers and blades also have potential salvage value
We follow the Wildlife Siting Guidelines for Saskatchewan Wind Energy Projects and the Adaptive Management Guidelines for Saskatchewan Wind Energy Projects to avoid zones where wind projects are considered higher risk to wildlife populations, natural lands or could conflict with areas like provincial parks, conservation easements, etc.
It's not always windy or sunny — how will you back up renewable options?
We're currently building the Great Plains Power Station to help support renewable generation. Because it's a natural gas facility it can ramp up and down 24/7 and act as a support to all the wind and solar coming online. When it's done, it will be able to produce 360 MW. That's enough to power a city the size of Saskatoon.
Later this year we'll also start construction on our first battery energy storage system in Regina. It's a first for us, so we're excited to better understand the potential for energy storage in Saskatchewan. Once built, it'll be capable of powering 20 MW for up to one hour.
Learn more: