Scholarship Recipient Designs Her Own Path
July 31, 2019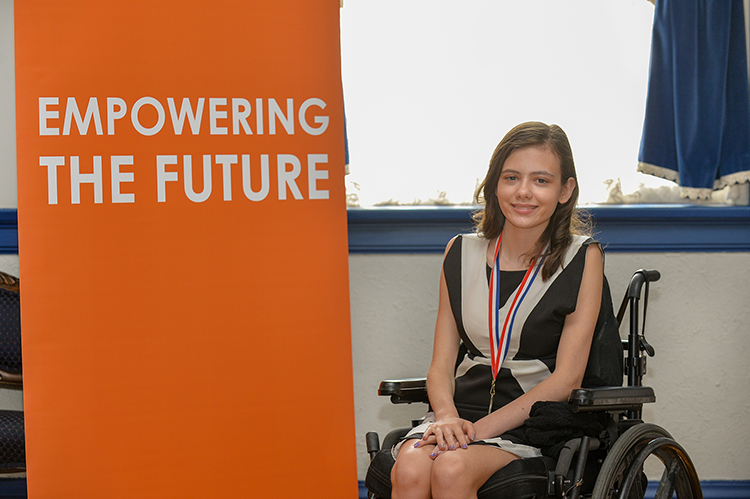 This inspiring 16-year-old designer hasn't let a chronic illness slow her down. Instead, it has motivated her to pursue her dreams. All while giving back to her community of Saskatoon.
In 2016, Emily Ives was diagnosed with Dystonia, a rare movement disorder. The disease creates involuntary muscle contractions, bringing chronic pain, fatigue and reduced mobility.
Emily began sewing at age eight and now designs her own clothing. She has created and sold pieces at Art in the Park and donated some of her profits to the Ability in Me program. Last October, she participated in the Saskatoon Fashion and Design Festival. Emily's designs recently appeared at Saskatchewan Fashion Week in Regina.
Emily hopes to create a new piece for Dystonia Month, to help raise awareness for the disorder. You can see her designs and follow her success at emilyannsdesigns.com.
Not only a clothing designer, Emily is also very active and trains as a competitive swimmer. She swims and volunteers with the Saskatoon Lasor Swim Club Para Swimming Program. And, for the past four years, has participated in the Kids in Motion Wheelchair Dance Team.
Emily participates in the Sage-Hill Summer Writing Program. This program provides young writers with mentorship to develop their creative writing skills. She also serves on the Youth Advisory Council of the Saskatoon Community Foundation.
Another passion in Emily's life is her younger brother, who has Down Syndrome. Emily has been instrumental in supporting her brother, and his face lights up every time he sees her. Every month, she volunteers with children at Ability in Me. They offer support to individuals with Down Syndrome to reach their potential.
Says her nominator, "A life-changing disorder and challenging circumstances are not stopping Emily. She continues to believe in her dreams and herself and to prove her care for others and her community. We can all learn from Emily."
Emily Ives is one of this year's Saskatchewan Junior Citizen of the Year Award scholarship recipients. We are proud to partner with SWNA in awarding this annual scholarship to local youth.
At SaskPower, we give back to the communities we serve in meaningful and impactful ways. Empowering youth through educational programs creates opportunities for Saskatchewan's brightest minds.