We're making progress on a $20-million power line and substation upgrade to accommodate growth near the University of Saskatchewan (U of S) in Saskatoon.

What to Expect
Line construction is underway and will be complete by end of April 2022, with cleaning and reclamation work to occur in the weeks that follow as weather permits.
Equipment such as large bucket trucks, diggers, cranes, semi tractor/trailers, trucks, equipment trailers and stringing equipment will be on site to complete the work. To keep the public and crew safe, traffic in the work area may be restricted in stages. We expect:
Reduced speed limit in work zones
Walking path closure and/or re-routing
Temporary road closures
You may also notice temporary structures in spots where the new line crosses a road or walk path. This is to protect drivers while we're stringing the conductor. Watch for City of Saskatoon's Daily Road Report for traffic impacts or look ahead on the Road Restrictions and Construction Projects iMap.
No power outages are expected while work is underway.
View the power line route in the video below: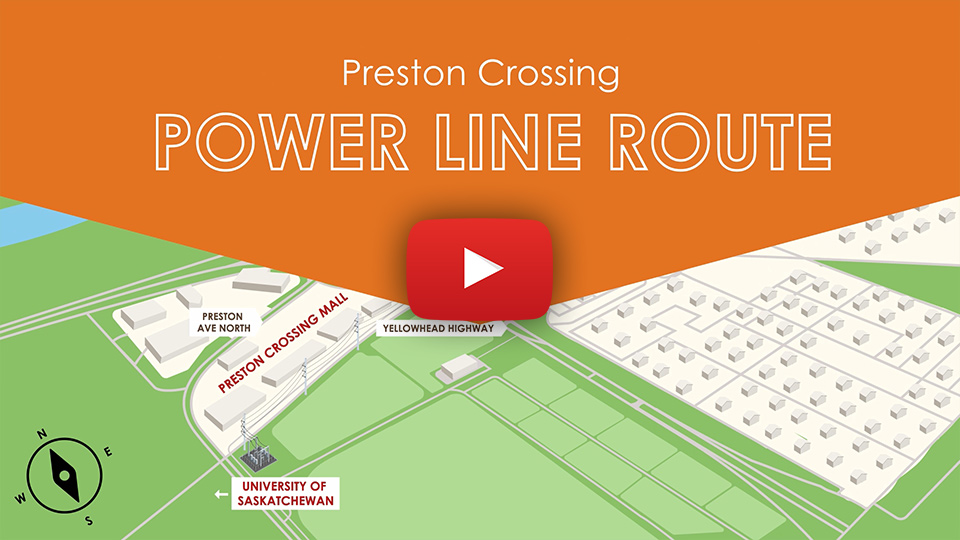 About the Project
We're upgrading the Preston Crossing Substation and building a new high-voltage power line to the station. This project will help us continue providing safe and reliable power. It'll also allow us to meet the growing demand for power in the areas served by the substation, including the University of Saskatchewan.
Below is a before (top image) and after (bottom image) of one area that will see trees removed.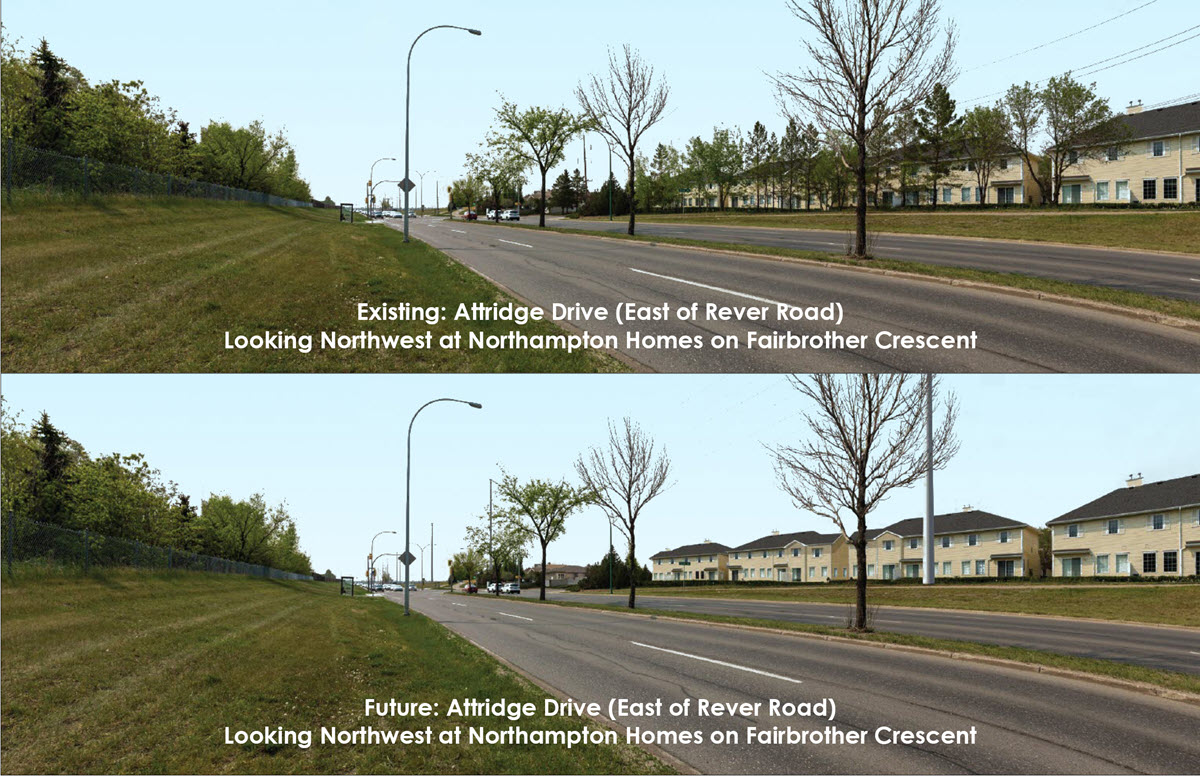 See more before and after images here.
New Name — Same Project
We have renamed the Saskatoon Sutherland Power Line project to the Preston Crossing Power Line Project. We decided to make the switch as the project involves building a new power line to an upgraded power station — the Preston Crossing Substation. This name will be less confusing for SaskPower and the City of Saskatoon workers in the future. Please be assured this is a name change only. The overall project scope and line route haven't changed.
Our Progress So Far
On Nov. 19, 2019 we held an open house in Saskatoon. We introduced the Sutherland Power Line Project (now Preston Crossing Power Line Project). We received many inputs and answered various questions about the project. We've compiled that feedback into a summary of what we heard. The themes of that report include:

Trees and Green Space

Traffic Restrictions

Proximity to Homes

Overhead Versus Underground Power Lines

Decisions Made Without Public Input

Noise

Outages

Interference with Wi-Fi and Radio

Communicating with the Public


City of Saskatoon Involvement
Minimizing the Impact to You
Through coordinating with Saskatoon Light & Power (SL&P) and the City of Saskatoon, we've come up with a plan to limit the number of overhead power line structures in the area. We'll do this by constructing 2 lines on one set of structures where SL&P's existing high-voltage power line is located today along Attridge Drive. This is called double circuiting. It helps us reduce the physical footprint of large power line structures in the area.
Part of our plan is to limit impacts to the nearby residences as much as possible during construction. Proper signage, crowd control fences with tarpaulin in areas near residences will be used to contain debris and noise. Spotters and other measures will also be used to make it safe for the public.

Respecting the Local Environment
We've consulted with the:
City of Saskatoon Sustainability Division
Meewasin Valley Association (MVA)
Saskatchewan Ministry of Environment
We'll follow all necessary permits and regulatory requirements.
After construction is complete, the City of Saskatoon will work to restore the green space with new vegetation that will enhance the aesthetics of the area and meet our safety and setback requirements.
Keeping You Informed
For more details about this project: