Power engineers are the backbone of our company — without them we'd shut down.
We need the right people for these jobs. Watch why our employees chose power engineering as a career.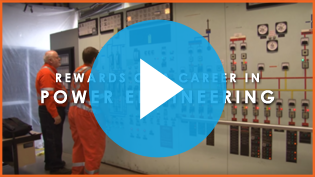 Opportunities in Various Locations
We've got opportunities for power engineers at our power plants in:
Estevan
Coronach
Saskatoon
Employees work on a 35-day rotation, which includes 14 (12-hour) days and 2 (8-hour) days.
We offer positions in three locations:
Estevan
Located in the southeast corner of Saskatchewan, midway between Regina (the province's capital city) and Minot, N.D., Estevan is often referred to as the sunshine capital of Canada. It's also been called the energy capital of Saskatchewan due to its strong resource base.
Coronach
Located in the southern part of the province, Coronach is a short distance from the U.S. border. A friendly town with affordable housing and an exciting future, there are many things to explore and do in the area, including tours of the coal mine, power plant and badlands, fishing and more.
Saskatoon
Saskatchewan's largest city, Saskatoon is located in the central part of the province on the banks of the South Saskatchewan River. An active city with plenty to do, the area offers something for everyone.
Contact Us Today
If you're interested in starting a career with us, you'll need:
Resume
Cover letter
Copy of your power engineering certificate
Copy of your wallet-sized power engineering licence
We pay fairly for travel expenses for candidates to:
attend interviews
plant tours
community tours.
Check out our current opportunities and sign up for alerts when new opening are available.
Provide Your Feedback