The Electrical Engineering Technologist Pool Program is a unique program at SaskPower that will allow program participants to immediately begin gaining work experience and a paycheque while enrolled in school. Select participants of the Pool Program will also be offered a job that you'll start once you finish your Electrical Engineering Technologist Diploma.
How It Works
Students of the Electrical Engineering Technology Diploma will dedicate 20 months of in-class learning at their post-secondary institution. Between school terms, we'll connect you with a well-paid work term with SaskPower, where you'll earn valuable, hands-on skills in the field and office.
Successful candidates are offered full-time employment at the end of their final work term. Before you're even finished school, you're hired! No job hunting is necessary while you finish your last school term. In our Electrical Engineering Technology Pool Program, you'll be placed in one of 15 unique areas at SaskPower. After six months in the pool, employees are welcome to explore all of the opportunities we have available at SaskPower.
When it comes to location, an EET at SaskPower has the potential to choose any part of the province, from Regina to Nipawin to Uranium City. Currently, there is high demand for EETs in six specific communities: Swift Current, Weyburn, Yorkton, North Battleford, Estevan and Prince Albert. One of these six communities is most likely where you will start as an EET in the Pool Program.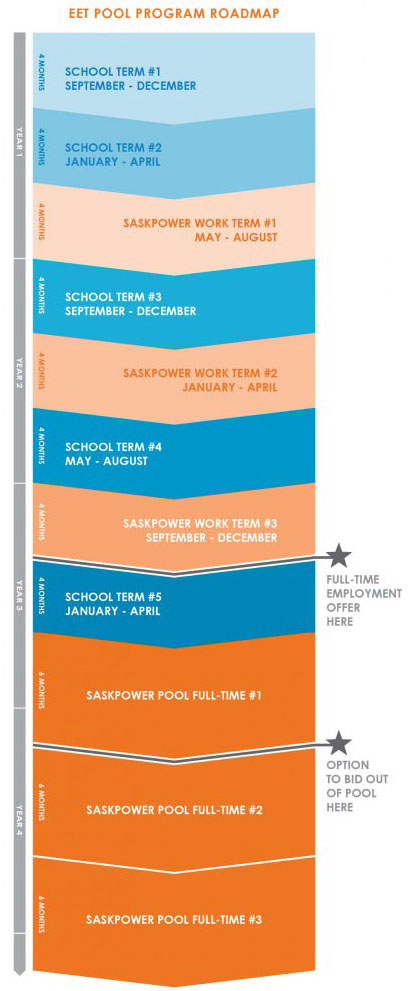 For an EET at SaskPower, it's really all about choice! Travel can be a regular part of your job, or you can choose to be stationary. Where you are depends on the positions you are free to pursue as an EET at SaskPower. It's important to remember that you won't be obligated to a single field of work or a particular location for your entire career. You can choose to fine-tune your expertise in specific role, or seek to diversify your skills by trying out different positions in the organization.
If you do choose to take a position in another community, we do offer relocation assistance, in addition to a competitive salary and benefits package.
How to Apply
As part of the CO-OP program at your post-secondary institution, students enrolled in the Electrical Engineering Technologist program will be able to apply for CO-OP work terms at SaskPower. We have provided job descriptions for work terms that match the careers that your program is preparing you for. You can participate in up to three CO-OP work terms with SaskPower. By the end of your last work term in the CO-OP program, SaskPower will evaluate your performance and, if you're successful, offer you one of the sought-after positions for EETs at SaskPower!
Provide Your Feedback