5 Questions With Lorne Prodahl on the 2015 Wildfires and Being Prepared for an Emergency
August 15, 2016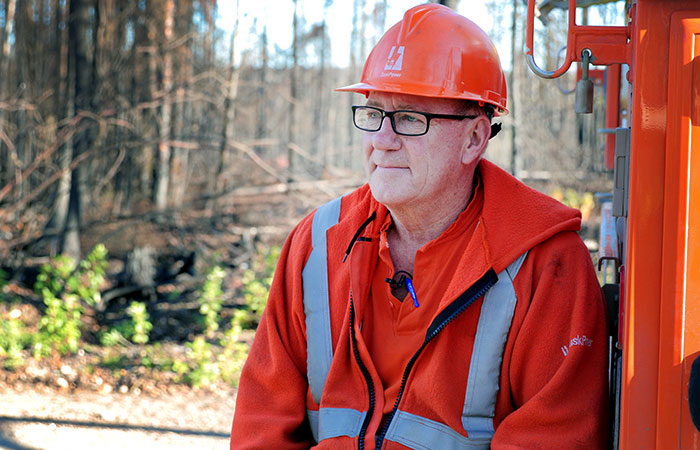 The wildfires of 2015 impacted many areas of our province. Along with fire and emergency services, SaskPower was also in affected areas such as La Ronge, helping keep the power on. Now, over a year later, we sit down with Lorne Prodahl, District Operating Supervisor at SaskPower in La Ronge, to look back and see what customers can do in the event of another wildfire.
What was 2015 like for you?

For me personally, I had a lot of different thoughts in my mind during the fires. It was my own community that was being threatened, my own house and everything I owned. It really made me think as the whole situation was developing.

As for being a SaskPower employee, every community up here was relying on the power staying on for their emergency services. As the fires were approaching, they needed their critical water infrastructure, their water treatment plant and communications to stay on and that all needed power to work. Everyone was counting on us guys to keep things going. So as the fires went through the power line, we would keep hoping for minimal damage.

Every day there was the unknown. You'd get up in the morning and first thing I would do is check the wind because if it was coming from the wrong way, if it was behind the fire and going to be blowing it into town, well then it was a day of 'oh boy look out'.

It was a very stressful situation for me as a resident of a community that is being threatened and as a SaskPower employee, keeping the infrastructure up and running, and doing it safely, all while dealing with what would burn down on a daily basis.

What did SaskPower learn coming out of last year?

I learned several things from last year as a SaskPower employee. One thing that happened here was the fire was raging right where we had built a new power line. When you build a new line, you have to widen out the right-of-way, clear the trees back. Since we had this right-of-way, that meant there was more room for the fire to cool off as it burnt through the power line until it hit the bush and then it would intensify again. If the trees wouldn't have been cleared out as well as they were, there would have been a lot more heat, a lot more trees falling on the lines and a lot more poles burning. So having that right-of-way really cleared out helped there be less damage to that area for us.

One thing I thought worked well for us last year during the fires was the amount of materials we had up in La Ronge. Since we are roughly 250 kilometres away from Prince Albert, we always have a pretty good stock of materials and that helped us get things fixed fast.

The incident command centre was also a huge help during the fires last year. My crew was busy fixing power lines and thinking what's next, what's next. Meanwhile, the incident command centre is sitting away from the situation and they're brainstorming for all the different scenarios that can pop up. That's a great thing to have because we were working and worrying about doing our work safely as opposed to thinking about everything else.

My crew was also really great last year, which helped things flow smoothly. You have a crew of men that are working out there right beside the fire and they're dedicated to getting power restored. They got things done and always had safety as their top priority. We never did anything unless it was safe to do so, even though there were some extreme circumstances, we keep ourselves safe. They were working in the thickest smoke and grass fires burning in the ditch. It was just 'let's get out there, do things safely and get the power fixed and get ready for the next thing that's going to come'.

Before an emergency happens, such as a wildfire, how can customers prepare for an outage?

Some things to keep in mind are extra food and water. I'm sure most people have a deep freeze and if they're anything like my wife I've got two so I could live for a month if I need. As for water, the cooler jugs or bottled water are a good idea. Having a flashlight is a good idea as well. As for what a full outage kit looks like check out our blog.

It's also nice if customers can have their own standby generation. It's a good option to have; I mean you're really never out of power then. There are some guidelines around generators so if customers are interested in getting one they should check out saskpower.com to learn more.

How can people be prepared for wildfires specifically?

A good thing to have is a water sprinkler system set up or on hand at your home. Last year, wildfire management and private citizens set up these water sprinkler systems around their homes and in their yards. These sprinklers would be going 24/7 and it was absolutely amazing at what that would do because then the whole ground and all the buildings would be soaked with water. There was so many cases where that fire would come burning just like a raging monster and it would hit the wetted down area and it would just stop. There were many places saved because of these water sprinklers. And this year, many of my friends who have cabins on the lake, they have their sprinklers in place right now for the next fire that may come.

Most people have this, but another good thing to have on hand is a fire extinguisher in your home. It may not help a lot in a forest fire situation, but you could extinguish grass fires around your property due to the wildfires.

It's also a good idea to be ready if there is a fire in your area. Follow social media or the news to see what the fire situation is like. People need to be ready to evacuate at a moment's notice, because if that fire comes rolling in, it's not waiting for you to pack your car up and get out of town. It's coming and you might not get a chance to do that, so be ready to evacuate by making yourself aware of the situation.

What should people do if they see a downed power line or power line touching a tree?

Immediately report a downed line by calling SaskPower at 310-2220 or call 911. This situation should not be dealt with by the public. You need to stay back at least 10 metres from a downed power line, and always assume it's live. You need to stay clear of the line and, if you can, stay there to keep all other people clear of the downed line. A majority of people don't know if there's power in that wire that's lying on the ground, so stay clear and keep others clear.

As for trees on power lines, one thing customers need to understand is not to cut tree limbs that are contacting power lines themselves. We had several times last year where people would cut the tree limb off themselves and that causes more harm than good. It's a very dangerous thing for Joe Public to be doing. If you see a tree limb that is contacting a power line, just call SaskPower at 1-888-757-6937 we will come out and take care of it.
SaskPower continues to prepare for these situations in the future. Our Emergency Planning group is developing wildfire preparedness plans and mitigation strategies in an effort to improve SaskPower's impacts related to wildfire prevention and emergency response effectiveness.
Learn more: