Building for The Future
January 01, 2016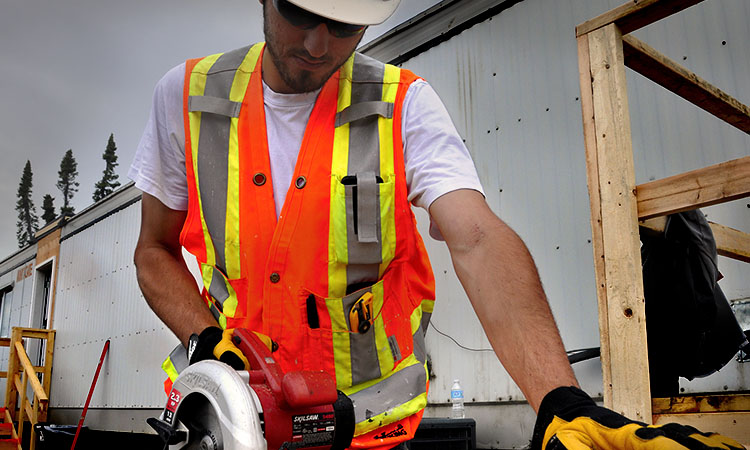 Powering the North

–

Chapter 3


The chance to work on a power line project in northern Saskatchewan has given 25-year-old Gary Venne opportunities beyond his wildest dreams.
"I was working for Kitsaki on the clear cutting project," Gary says. Kitsaki, a company contracted by SaskPower to do the initial tree cutting for the I1K power line project, is also under contract to build camps to house crews working on the project from Island Falls to Key Lake.
During the cutting, "I was doing pretty good leading my own crew, so they hired me up here to be the lead hand for the construction" of the camps, Gary says.
Having a steady job and being only two hours away from home in La Ronge has not only given Gary everything he needs, but has also helped him support his growing family as well.
"I've got a baby on the way and I'm looking forward to being a father," he says. I feel the future is "very bright."
But it wasn't always this way for Gary.
"When I was about 15, I got into trouble. I was hanging around with the wrong crew and they were breaking into some places and I was just following. I had two charges put on me back then."
Gary was given three options. Spend two months in a youth detention centre, accept a community service sentence, or be given the opportunity to work the trap line with relatives. Gary chose the trap line, where he learned to live off the land.
"That straightened me out," he says. "Surviving off the land; not having much. Living in town you get what you want, but up there you don't have what you want. You have to go get it."
Putting family first
Darcy Mirasty understands the importance of paving the way for his family and, like the other workers building and maintaining the Lindsay Lake Camp about 165 kilometres north of La Ronge, he thinks of his loved ones often during his 21 days on, seven days off shift.
"I have a wife and three kids, aged 14, nine and 18 months." As foreman of the construction crew, Darcy says he gets paid well enough to get them everything they need.
"They are always dressed nicely for school. They never miss school," he beams proudly. "They always have food, bills are always paid. That's nice."
Just as he provides for his family at home, Darcy's role at camp is to make sure everyone has what they need. Whether its building walkways, connecting trailers together or one of his many other duties, he knows the work he does helps make camp feel a little bit more like home.
"They're only home 12 weeks of the year," he says of the workers. "So you have to try and make it as comfortable as possible for the people that are here."
Leading by example
David Ratt has always enjoyed driving big equipment. The 42-year-old machine operator from La Ronge has an impressive resume that includes everything from carpentry to mining.
The mines, "that's where I did all my training," smiles David. "I worked at Cigar Lake Mine, McLean Lake, Rabbit Lake and used to work underground at a gold mine when I was younger."

The father of three daughters, all in their twenties, encouraged his children at a young age to continue to learn and seek out opportunities.
"One daughter graduated five years ago, another just graduated, and I have one more daughter and two grandchildren. Lots of fun at home," smiles the proud dad and grandfather.
David relishes his role as a mentor and says his family is always asking how he learned to run a crane.
"I let them know and tell all my nephews, 'Start young and by the time you turn 20-30 years old you should be good at driving what you're told to drive,' " he says. "I just started learning after other people."
Motivating others to succeed
Gary moved up the ladder at a young age and he wants to help others do the same.
"There are a lot of people out there who don't want to work. And I have friends that don't work and I just tell them, 'Give me your resume; I'll put in a word for you.' "
Gary takes his role as a mentor seriously. And he knows others are watching, wondering how he has become a success.
"People say 'Wow, you're already a supervisor.' " That's when they get excited about putting that resume together, he says smiling.
But Gary feels there's more work for him to do to encourage others to take advantage of the opportunities.
"It's hard to get a job if you don't work early and you don't have schooling. A lot of people don't have that back home and I wouldn't mind showing a little bit more encouragement to some guys, to get them working."
Workers on the I1K power line project are setting a good example for family and friends.
And even though his supervisor status really boosts his confidence, Gary's actions show his modesty. He jumps right in with his colleagues, drilling, cutting and hammering, doing whatever needs to be done. While on the job he keeps a smile on his face, maintains his good attitude and tries to keep his success in perspective.
"Things are very expensive these days and it's hard to find a good job like this. This is an awesome opportunity, I really respect it. Just be on time, be sharp and get it done.
"I didn't expect this. It's awesome!"
Learn more: