Distribution Line Back In Business Thanks to Creative Crew
May 02, 2016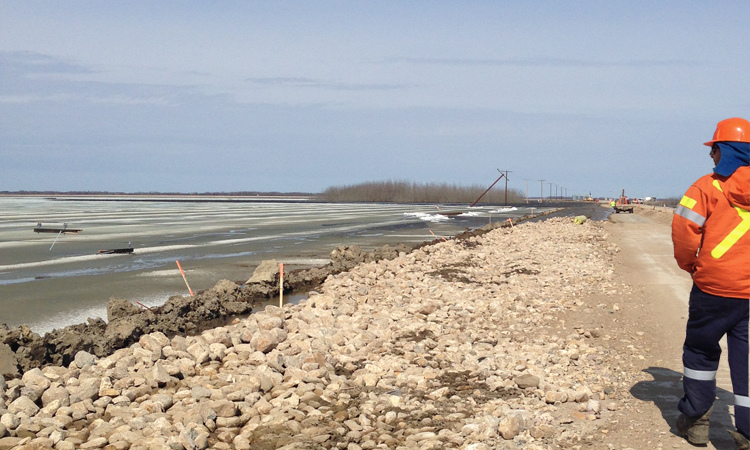 Thanks to some creative SaskPower employees, customers no longer have to worry about one at-risk distribution line near Highway 6.
Ten months ago, the power distribution line near Dafoe, SK was shut off. We were getting calls from worried locals who noticed the power structures were starting to lean in the water-logged area. We knew we needed to take action, but there was one problem...
Usually we wait for winter temperatures to freeze the water so our crews can safely work on the ice. But a warm winter combined with the high-saline level of the water made freezing difficult in this case. We typically want ice to be at least 42-48" thick to safely operate on, but this ice was nowhere close to that.
So what could our crews do about it? They decided to make their own ice sheet of course!
First, all the snow was removed from the area. Several holes were then drilled into the ice and water pumped up to flood the surface, making the ice thicker one layer at a time. When it was all finished, an ice specialist was brought in to certify the quality of the ice using an x-ray sled. If this process sounds familiar, it should. It's similar to the way ice skating rinks are made.
When it was all said and done, the crews had created an 800m x 50m x 52"-thick sheet of ice to work on. Shortly after, they were able to install 7 new structures and re-energize 3 miles of the line.
How's that for outside-the-box thinking?
Learn more: