Keeping Safety a Top Priority
January 01, 2016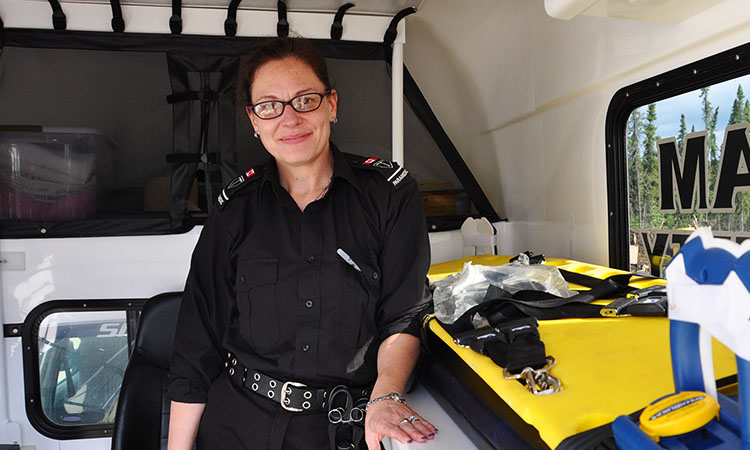 Powering the North – Chapter 5
For paramedic Debora Buckwald, moving from the people packed hospital corridors of Toronto to the wide open power line worksite in northern Saskatchewan is quite the change. But it's that personal connection she's come to have with her patients that she enjoys the most.
"In Toronto you had four million people and it was call after call and it was just a person – you didn't even remember their names half the time," she says. "But with these guys, you get to know them. It becomes a little more personal."
Debora works for Ram Safety, a La Ronge company contracted by SaskPower to provide emergency services for the I1K power line project in northern Saskatchewan. Ram Safety is equipped to handle every type of emergency that an ambulance can come across. Debora's ready to deal with anything from heat-related emergencies in the summer to hypothermia in the winter. She says trips, falls, sprains, strains and pinched fingers are among the more common injuries she deals with, but she's prepared for worse.
Paramedic Debora Buckwald with Ram Safety provides treatment from minor wounds to emergencies.
"Any sort of electrical burns, because they are dealing with the high voltage, falling objects, impalements," she warns. "If they don't eat properly, and don't eat three meals, you could be dealing with diabetic issues, low blood sugar."
And it's when she sees one of her co-workers not eating properly – that's when those instincts kick in.
"You develop that rapport with them," she says of someone who might be dealing with a diabetic issue. "They kind of become your kids and you're a little more protective of them."
Experience pays off
Steven Thorgilsson of Valard Construction is no stranger to drilling into solid rock along the Canadian Shield in Canada's North. With 18 years' experience as a heavy machine operator, the Lundar, Man., native is the perfect choice for coaching and mentoring employees on the best and safest way to hammer holes into the dense boulder-filled landscape where the power line needs to go.
The drilling of the holes provides a position for anchors and tower bases to be placed. "We're going to put two drills per tower site and we're hoping we can hammer off two sites per day," Steven says. And it's an important job, since the holes his team cuts will form the basis of the foundation for the towers – some as high as 175 feet (53.34 metres).
Keeping a safe eye on the environment
And while all this work is being done, someone is keeping a close eye on how it impacts the environment. Whether it's a frigid January day, or a warm, mosquito-filled day, June Parada of Kitsaki Projects is eager to get out the door and hit the worksite as an Environmental Monitor.
"I go and make sure any (fuels or oils) are contained in a secondary containment. If there's any chance of it getting spilled, it gets caught right away and doesn't go into the ground," she says.
June Parada of Kitsaki Projects makes sure employees on the I1K power line project are following all environmental and safety procedures.
June is one of the key lines of defence against any damages that can occur to the sensitive environment. Her days consist of walking, inspecting and cleaning up. The mother of three and grandmother of two is a self-proclaimed northerner from La Ronge. As such, she wants to make sure everything is restored to the way it was before the project began.
"I love it there. This job is ideal for me because I get to be in the bush a lot."
June considers herself fortunate to have been raised with a strong work ethic. Her father was one of the early pioneers of wild rice farming in the north. The experience of learning a business and helping along the way helped establish pride for a job well done.
"We worked hard and had great work ethics," she says with pride. "I like to work. Standing around is not a lot of fun for me."
June says she really enjoys the variety in her job but knows keeping the north free of contaminants is her No. 1 priority.
"We go and make sure any (fuels) are contained so if there is a spill it gets caught right away and it doesn't go into the ground," she says. "Anywhere they are working near water, (I) make sure that there's no spills anywhere around there and as they are crossing into lakes that they damage very little of the shoreline."
The safety marshal
While the safety of the environment is one thing, the safety of everyone working is Willie Forbes's job. As the Safety Advisor for Valard Construction, he needs to make sure that everyone and everything at camp stays safe.
"And I make sure nothing is destroyed or harmed, or the environment isn't hurt and the equipment isn't damaged," the veteran of 45 years in the power business says.
Valard is also dealing with many new employees. As a result, Willie says training starts with a strong safety plan for employees before they even head out to work on the power line.
"We orientate them, supply them with training (such as) aerial lift training," he says. "We have trainers who will come in; we also mentor new employees on the job with senior employees."
Safety meetings are held daily on the I1K power line site.
And Willie emphasizes employees have a big role to play.
"We expect them to look out for themselves and look out for their fellow workers. If they see something unsafe, stop and find out if it's safe to continue."
Quick decisions are key
If an emergency does occur, Debora says the remoteness of the worksite is something she's never dealt with before this job.
"I've been a paramedic for ten years, but I've never done it in such a closed confined area where my hospital is a little further away and having such a wide variety of things that I could handle," she says.
She admits it can be tough to quickly determine if the injury is something she can handle on site or if an air ambulance is required. And it's not always easy to communicate without cellular services.
"The satellite phones are a bit unpredictable," Debora says, which means there can be little time for consultation with other medical professionals. "It's a lot more your decision on what needs to be done. Is it something minor that I can do a bit of treatment or is it, 'no we have to get them (to an ER) right now?' "
Learn more: