Love for the Land
January 01, 2016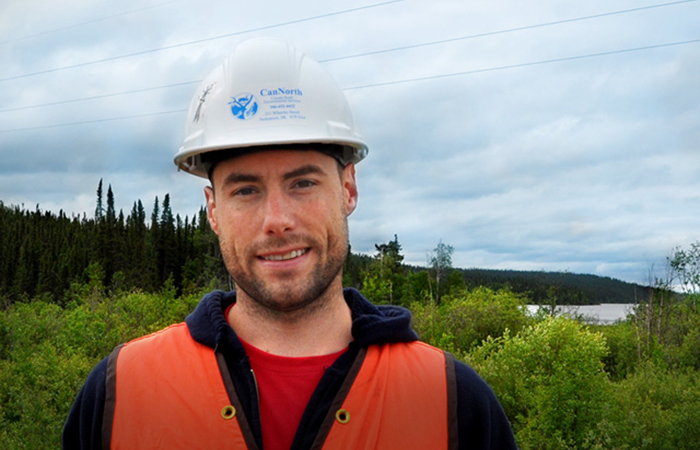 Powering the North – Chapter 2
Craig Banilevic loves working outside, surrounded by the trees and the birds. It's something he's enjoyed ever since he was young.
Craig works for Canadian North Environmental Services (CanNorth), a company contracted by SaskPower to provide on-site monitoring of the I1K power line project in northern Saskatchewan. CanNorth is owned by parent company Kitsaki Management Limited Partnership, which is owned by the Lac La Ronge Indian Band.
"I love the environment. Ever since I was a kid I've loved nature so being able to be out here in this beautiful country it's definitely rewarding," he says. But at the same time, "you have to accept that development is going to happen. My role is to lessen the impact that the inevitable development will have and to be a part of that, and to reduce the footprint, is exciting."
Helene Careau, Coordinator of Environmental Assessment with SaskPower, also cherishes the opportunity to nurture her love of nature and appreciates the challenge of making a project succeed at the same time.
"This is an awesome project to work on from an environmentalist's perspective," she says. "There are so many pieces to it and boreal forest is an awesome environment. I love working in this environment."
Identifying nature's needs
Helene's job is to strike that balance of environmental protection, while at the same time making sure the project goes ahead. She says all 21st century environmental regulations must be met before, during and after a construction project.
"SaskPower has not done a major power line build in the north for 20 years, Helene says. "And that was different regulation, different rules in the environmental world at that time."
She says not only have the environmental rules tightened up in the last 20 years, but "enforcement of existing regulations have also been enhanced."
"One of the first challenges was to find a path for this line that would minimize the environmental impact."
It's helpful that the path chosen for the new line is along an existing power line that runs from Island Falls to Points North.
"Projects of this magnitude when they are in a new right-of-way would take years of environmental assessment under the acts and regulations to deal with it," Helene says.
She notes that federal and provincial regulators know from the previous line construction what the habitats in terms of trees, lakes and rivers are in the area, which helps to speed up the approval process.
But just because there is background knowledge of the area doesn't mean that a thorough inspection doesn't need to be done. Helene says everything from animals to plants must be identified so land can be restored as close as possible to the way it was found. This includes providing a buffer around areas where birds are nesting to let them raise their young without interference.
When a power pole is home
One of the more fascinating stories Craig and his crew have come across is the desire of ospreys – large, fish hunting birds – to build nests and raise their chicks on top of existing power poles. As Craig explains, there's a pretty good reason why the raptor prefers the pole for a penthouse.
Working with the birds
While having a "room with a view," is a desirable option for the birds – it's highly unlikely predators will be able to climb a power pole to get at the ospreys and their chicks – it's a challenge when trying to prevent power outages.
Sticks falling out of nests can cause arcing on the power lines. This happens when a branch contacts two or more lines at once and creates a spark, which could lead to outages. SaskPower crews tried to discourage the raptors from building on the poles by mounting big orange traffic pylons on the top.
But the ospreys clearly had no intention of following any conventional traffic rules. They built right around the cone.
So, as a compromise, each one of the new power line towers has been designed to install a nesting platform on the top. SaskPower crews will install the platforms and start building nests as a way to attract ospreys to the ready-made spot on the transmission tower. "You would only start to build a nest in an area that you can confirm is a desirable site from a bird's point of view," Helene says, adding this is usually determined by where other nests have been built in previous years.
It might seem a little odd that there would be so much attention paid to the birds, but Helene says it's worth it for everyone. "Having platforms would mean fewer issues with nests interfering with the power line, less chances of starting forest fires, less chances of power lines causing bird mortality," she says. "Less outages means it's better for SaskPower and for customers' reliability."
Protecting the land
The first part of the power line building process is the clearing of the trees along the existing line's right-of-way from Lindsay Lake to Key Lake.
The trees weren't big enough and were too far away from major roads to harvest them into usable materials. The cut trees were laid down on the ground as cover. According to Craig, the fallen material is a great way to protect the land.
"It helps prevent some erosion so the rain or water isn't directly hitting exposed ground, which can erode away the soil," he says. "It also provides nutrients back into the soil."
Clearing the way
The tree clearing was done in 2012 by Kitsaki – and it wasn't easy labour.
The cutting crew, armed with chainsaws and brush saws, cut down 1,400 hectares, or the equivalent of twice the area of the City of Prince Albert, of forest along the right-of-way of the existing power line. They did it with more than 350 crew members, who camped at 15 locations between Lindsay Lake and Key Lake. They cut during the winter, having to walk through waist high snow and work in the bitter cold.
The workers, their food and supplies were airlifted in. The workers were required to pack up everything that had been brought in as part of the environmental regulations. Anything left behind was cleaned up by an environmental services crew.
Learn more: