Mission Accomplished
January 01, 2016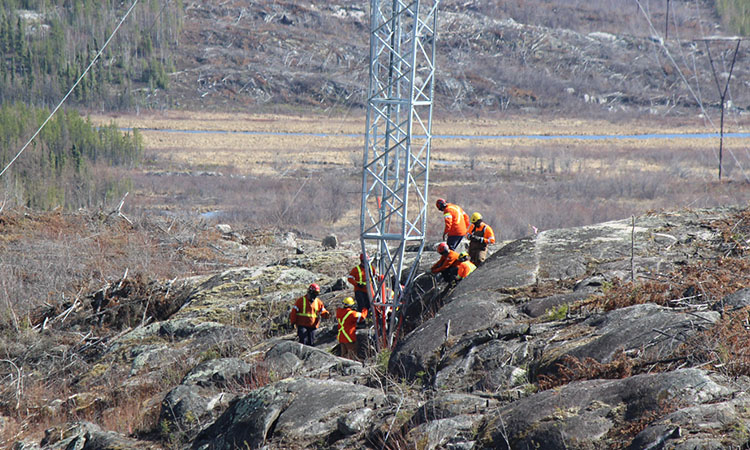 Powering the North – Chapter 7
Most of us don't go to work in -65°C weather, or expect to run into wolves, bears and mosquito swarms so thick you'd have to wear protective clothing. But those were just some of the realities workers faced in their five-year journey to complete the I1k transmission line in northern Saskatchewan.
Thankfully, all the hard work in very challenging conditions is over – for now. This summer, we officially energized the final section of the line, and in doing so, celebrated the successful completion of this $330 million project.
The new I1K transmission line runs parallel to the existing I2P transmission line (built in 1991) from Island Falls to Key Lake, Saskatchewan. Two new transformers were also built at the Island Falls Substation. Because customers and industries will no longer have to rely on a single major power line, the completion of the I1K line is expected to reduce the frequency of outages and the time needed to restore power during outages.
We are especially pleased to complete this huge project with only a small number of safety incidences. Only three lost-time injuries occurred in the five years it took to build the line, with no major medical events. More importantly, safety lessons we learned will be carried forward to future projects.
"Everyone who played a role in I1K's success, from our President and CEO to our most junior team member, should feel proud of their contribution," says Sameh Nashed, the project's manager. "Their dedication, perseverance and creativity saw us through to the end."
Clearing the way
In 2012, we embarked on a mission to build a 300km line through some of the most remote and unforgiving terrain in not just Canada, but perhaps the world. There were no highways to move the heavy equipment needed to build the 760 support towers. There were no comfy hotels for the 250-300 full-time workers that cleared the way. The landscape was thick forest on a hard, rocky ground and hundreds of wide rivers and lakes along the way. Nothing about this was going to be easy.
To make room for the towers on the line that ranged from 140-175' tall and weighed between 9,000-25,000lbs, workers needed to secure 32 hectares of land, or about 32 football fields. We used around 45 helicopters over the life of the project, flying over 30,000 hours during 20,000 flights. The helicopters assembled the towers and strung the 300 km of cable between them.
"The I1K project was one of the most complex transmission projects in North America," says SaskPower President and CEO Mike Marsh. "This was due to the challenging terrain, working conditions, unique design and helicopter construction activities. With the hard work and dedication of our employees, contracted partners and northern communities, we are now able to continue bringing reliable power to the far reaches of the province, and for many decades to come."
A team effort
We collaborated with 64 companies and needed around 1.8 million person-hours of work to get the job done. Building the I1K line was a monumental task that required collaboration with people from Pinehouse, Brabant Lake, Sandy Bay, La Ronge and the communities of the Lac La Ronge Indian Band and Peter Ballantyne Cree Nation.
Camps were set up in Lindsay Lake, Key Lake and Island Falls to house the workers with a broad range of skills: tree clearing, construction and fabrication, inspections, safety and environmental reclamation and monitoring, engineering design, contract management, maintenance and fleet control as well as camp services like kitchen, laundry, security and housekeeping.
Over 500 people from the North were employed on this project, directly impacting a whole generation of Northern people by empowering them with valuable skills, training and experience.
The final chapter, new beginnings
Though this chapter may have ended, our commitment to provide reliable, affordable and clean power to all of our customers, not just in the north, is stronger than ever.
In the coming years, new power stations such as the recently announced natural gas plant in Swift Current will rise on the Saskatchewan landscape. To get to our goal of 50% renewable power by 2030, we'll need to invest in technology like wind, solar and hydro.

More than sixty years since the Rural Electrification Act challenged us to provide electricity to every farm in the province, our mission hasn't changed. We're still striving to deliver better service to all
of our customers, even the ones that might not be so easy to reach.
Learn more: