Opportunity Begins with Friendly Competition
December 12, 2016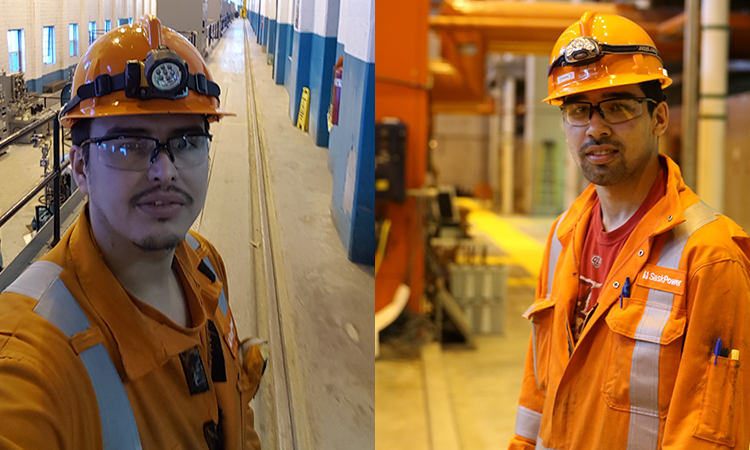 Black Lake friends Raymond MacDonald and Tommy Sayazie were always competing with each other in school, or as they call it, "pushing each other to be their best".
But when they grew up, Tommy and Raymond found themselves facing an entirely new challenge, one that many workers in the remote parts of our province know well – finding a job that's both close to home and can lead to a meaningful career.
"I have two girls and I wanted to be able to be home with them instead of away at work," says Tommy. Though he made a good wage in his previous job, he was spending a lot of time away from nine-year-old Matty and five-year-old Melanie.
Enter SaskPower
Tommy and Raymond were working for a mining company when they came across two apprenticeship opportunities on SaskPower's website. For two friends who were used to pushing each other along, the opportunity to work towards a journeyman certificate – together – was something neither could pass up.
"I've always wanted to go into the electrical field," says Raymond. "And to work for the biggest electrical company in Saskatchewan, I had to apply."
Tommy explains that SaskPower helped move his family down to Nipawin so they could stay together while he started as a mechanical apprentice. Now that Tommy and Raymond are working through their four-year programs, both are being groomed to fill upcoming vacancies at one of SaskPower's northern power plants, close to their homes in Black Lake.
That's great news, according to Greg Berg, Manager, Production Support, Hydro and Renewables. He says he knew there was something special about both Tommy and Raymond as soon as they spoke.
"The way they answered questions in the interview, they showed leadership and were confident," he says. "They're two of my top employees. Any employer would want them working for them. They aren't afraid to ask questions to challenging situations. They just have the desire and the right attitude to be successful."
Good Advice
Berg says organizations can find people like Tommy and Raymond if they stay focused on what they're looking for.
"Be prepared to be surprised. Let the candidate show you they are right for you and your organization by giving them a chance to be challenged and to succeed."
Both Tommy and Raymond are excited about expanding their skills and their future at SaskPower. They are also encouraging youth from northern Saskatchewan to keep learning and not be afraid to leave home to get an education. I
f you are interested in expanding your skills and future with SaskPower, check out our Careers section. View featured jobs, browse current opportunities and sign-up now to be a part of our Talent Community. Find out why we're one of Saskatchewan's Top 20 Employers and unlock your potential.
Learn more: