Powering the North
January 01, 2016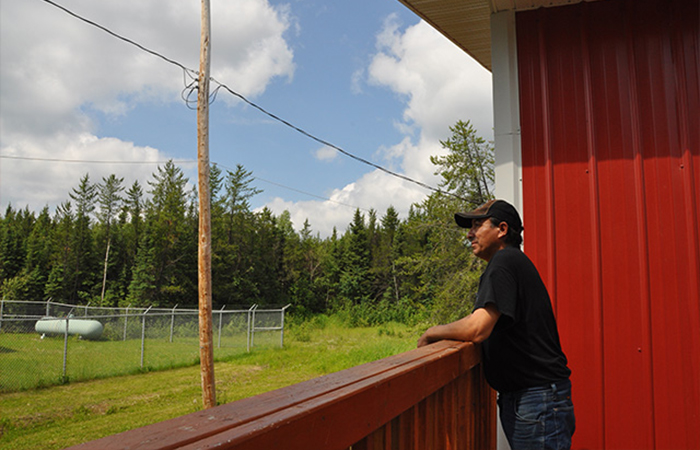 Powering the North – Chapter 1
Rebecca Bueckert enjoys living in and being the Mayor of Brabant Lake. The community of 50 about 170 kilometres north of La Ronge enjoys the modern conveniences of reliable power. But in the summer, it can be a different story.
Rebecca says all you need to do is look at the sky. When you see the lightning and hear the thunder, it's only a matter of time.
The power goes out "quite a bit, especially when the weather's bad," she says. "Usually goes out at least five or six times a summer (and it stays off) for hours," she says.
Twenty-eight-year-old Darwin Charles works in maintenance for the community of Brabant Lake. He relies on electricity to run cleaning equipment in the community, and for operation of the water treatment plant.
Since Brabant Lake only has a convenience store he, like others, must take a one-hour trek up a grid road to the community of Southend to get his groceries. One might feel compelled to fill their vehicle with frozen meats and dairy products in order to make the trip worth their while. But that proposition is a bit of a gamble when the electricity goes out so often, and for so long.
Looking for work
While both Rebecca and Darwin are bothered by the frequent outages, they know they are fortunate to have jobs.
William McKenzie has lived in northern Saskatchewan all his life. He knows the benefits of employment but also knows the challenges of having no work, especially in a part of the province where opportunities are limited.
"I was up in McArthur River," he says, "hauling rocks and gravel for the mines."
Over the years, he's done it all – from guiding at a fishing camp, to operating heavy equipment for road construction. And he knows the traditional way of life as well. He spent time on the trapline when he was young and later in life.
"This is part of my trapline in this area here," around Brabant Lake, he says. "My late grandfather and the old people used to trap here."
And it's here where the stories of frequent power outages, unemployment and the land meet. It's a point in our journey where an incredible opportunity has presented itself for everyone in the north.
It's called the I1K power project. This is a line that once built will carry 230kV of power from a refurbished hydroelectric station at Island Falls, more than 300 kilometres north to Key Lake. Not only will this project improve reliability for customers like Rebecca Bueckert and Darwin Charles, but its peak construction will offer 200 jobs, giving folks like William hope of finding a job. Once the line is complete, industrial mining customers will have the electricity they need to grow and expand. And expansion could mean more jobs.
Rebecca tells us this project is already providing jobs, as initial tree clearing and base camps for workers to stay at get set up.
"Now that this SaskPower (project) is going on, it's a little bit better now," she says, noting that there are at least six members of her community who are working on the project. "It's good for the people here."
William appreciates the value of the traditional way of life. He also knows getting an opportunity to work will go a long way to providing for himself and his family.
"Any kind of labour job," he says, "For (SaskPower) to hire me, I'll be happy with that."
Need the land first
But before the line can be built, several plots of land along the construction area need to be cleared. This land will be used to house the steel and other parts, as well as provide an area to build the transmission towers.
At a June 2013 open house at Brabant Lake, we had an opportunity to meet members of the community and let them know the importance of securing 32 hectares, or the equivalent of 32 football fields, of land nearby.
This land is critical to the start of the project. In order to get consent to use this land it starts with the local community, and a series of environmental approvals, before a single leaf on a tree can be disturbed.
Learn more: