Powering Through the Cold
January 01, 2016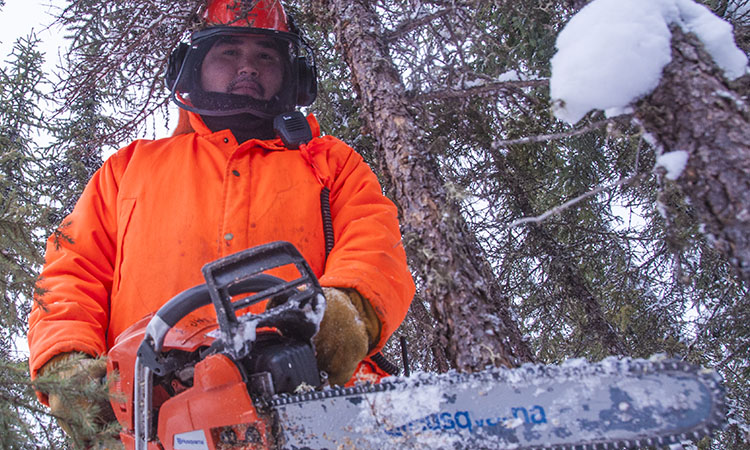 It's -45 C before the wind chill kicks up on a frigid January morning. Justin Halcrow and his brush clearing crew emerge from their tents, grab a hot breakfast and then layer up to head out into the elements. But you won't hear a peep of complaint from this father of two from Pelican Narrows.
"It keeps me busy and it keeps me fit," he says. The cold, "it keeps you moving."
Justin admits he can easily outlast the equipment he needs to do the job.
"The chainsaws don't run properly. The oil is thick and takes a while to fill up (the saws) and most of the saws don't cooperate in the cold," he says. "Warm the saws up, change filters; we do whatever we can" to keep going.
Justin and co-worker Kendal Linklater of Pelican Narrows work for Nisostokwiyak, a clearing crew hired by SaskPower contractor Valard to help build the I1K power line in northern Saskatchewan. Kendal agrees with Justin about how to stay warm and productive.
Kendal Linklater says it's critical to keep the equipment running so it functions properly when it's extremely cold outside.
"Once we have a little break (the saws) freeze up," he says. "We just have to keep moving; don't take long breaks, dress warm and take extra gear."
From Jamaica to Saskatchewan
Work opportunities brought Kevin Williamson from sunny Jamaica to the ice fields of Saskatchewan.
Kevin works with Tervita, a company installing anchors for the transmission towers. He spends his day drilling into rock to set anchors for the transmission line towers. It's gruelling and initially he wasn't sure what to make of the snow.
"I saw all this snow and I thought, 'so pretty.' "
But he shyly admits it was a bit of a shock when the temperature plummeted into the -40s on one of his first days on the job.
Keeping a close eye on safety
For 20 years, Jim Friesen has been focused on the safety of hundreds of employees. He works for Valard, the major contractor for the I1K project. Jim holds three trade tickets and is familiar with working at industrial sites with heavy equipment. He admits the cold, while anticipated, always makes the job that much more challenging.
"We tell the folks to dress in layers, take extra clothing with them in case the weather does change," he says. "In dark conditions it gets cold very fast," so we want to make sure they're well prepared and "drink lots of water during the day."
Jim Friesen tours the worksites daily to make sure employees are protected from the cold and practicing proper safety procedures.
Jim says there are shacks along the work routes that allow crews to get out of the elements when it's dangerously cold. He also puts the onus on the employees themselves to watch out for danger signs.
"We ask people to look at each other to make sure that if anybody's getting frostbite or anybody's getting tired or little bit out of character (to be aware) they might be feeling the early effects of hypothermia."
Any gear that employees don't have is provided on site, such as balaclavas, hard hat liners and insulated coveralls.
The cold road ahead
Steven Thorgilsson might be the only one who truly appreciates the cold and how it can help him do his job. He's the winter road foreman for Valard Construction. The winter road is a path trucks need to take across uneven terrain and even across lakes to get construction materials and employees into remote worksites.
A view of the winter road and an anchor construction crew.
"We provide access to locations where we need to go using whatever materials we can – mostly snow and some flooding."
Steven wears many hats for Valard, including machine operator and trainer, but admits this job is among the most challenging since it's so dependent on cold weather.
Steven Thorgilsson says the colder the weather the better when it comes to building and maintaining a winter road.
"We need the cold weather when you're freezing a lake (to drive on)" he says. "You want -20 C; a little slower freeze to make better ice.
"A little later on as you're opening up and getting the ground disturbed, it doesn't hurt to be a little colder; -30 C and -40 C doesn't bother us."
He says the crews use a lot of fuel when it's that cold because the graders and bulldozers that build the road can't be shut off.
"It's just a nightmare trying to get them going out there again – so they have to be left running all night long."
Many of the machines required for the project, such as the buses that shuttle crews to and from the worksite, often are left running all night because they simply won't start when the temperatures plunge.
The Paul of all trades
It's not just vehicles that need a jump start. It's up to Paul Adam, Valard mechanic, to make sure everything from chainsaws to bulldozers are working. And he admits the amount of repairs skyrockets when the mercury plunges, but that changing to thinner, arctic oil helps a lot.
Paul Adam (left) and Robert DeForest assess an engine problem on an all-terrain vehicle.
"Lots of cold starts, lots of no starts; everything has to be plugged in," he says of equipment like hydraulic hoses that need to be changed and fuel systems that gel up in the cold.
The Timmins, Ont., native credits his dad, who started him working on snow machines at the age of five, with giving him the skills and desire to want to fix things.
"I enjoy modifying stuff, building stuff; I'm into race cars, mud trucks."
He admits being in the remote location of Lindsay Lake camp can make it tough to get parts, but says it's a learning experience given the variety of equipment he gets to work on.
"I like that. It's nice to be in the shop one day working on a chainsaw and the next day you are out on the line diagnosing a dozer."
Battling the elements
A temporary road like the one Steven is responsible for building requires snow and water to fill in the potholes. He says the road starts with snow machines, moving to track machines. It's all about disturbing and packing the snow, which promotes the frost to push deeper into the ground.
A grader operator flattens and packs the winter road to provide a smoother ride.
"Every time you go over it you are cracking the ground a little bit or disturbing the snow a little deeper and you are getting more frost into the ground," he says.
The road, about 30 kilometres long, is through some of the roughest terrain Steven has seen. If machines break down it's hard to get them out for repair. And if the snow isn't enough to pack down and fill in the dips in the road, flooding with water is necessary, he says. And it's not easy to run water when it's well below freezing.
"You've got to be quick and keep your pump running otherwise you're going to have all kinds of trouble," he says. "Your pumps and hoses freeze up. (Employees) just fill their water tanks and get where they need to go and get it dumped right away. It's a constant battle in the cold."
Learn more: