Putting the Pieces Together
January 01, 2016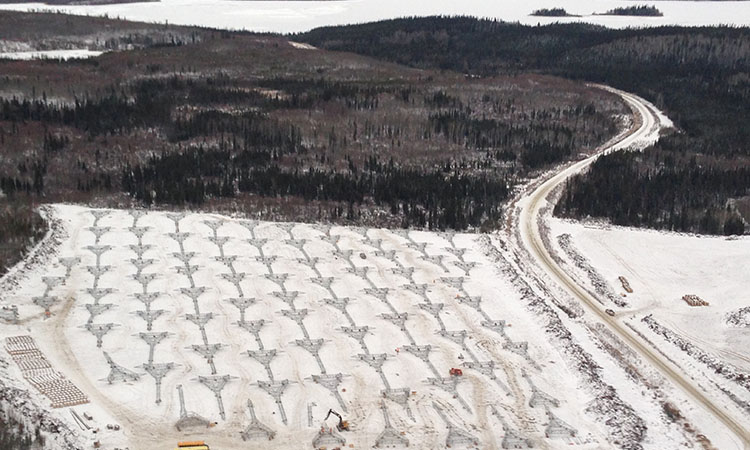 Powering the North – Chapter 6
From above, the thick, boreal forest gives way to a cleared area of what appears to be rows of shiny letter Ts both right side up and upside down. Once closer, you can see a scurry of activity around the Ts. Only once the helicopter begins its descent does the picture become clear. The Ts are electrical transmission towers lying on their side. And the activity is 4x4 trucks and people scurrying about bolting the 42-metre (140-foot) tall structures together. This work is being done near Lindsay Lake in northern Saskatchewan and it's all part of the next crucial piece for the I1K power line project.
"We have three assembly yards," says David Darknell, an assembly construction supervisor with Valard, a company contracted by SaskPower. Two yards have "about 18-20 acres and we have 87 towers in each. The other yard has the bigger towers, about 70 acres for 200 towers." To give you an idea of the size, that's about the same as 91 football fields.
In a shack out of the wind and cold, Rose Eninew with Kitsaki Projects, another contractor on the project, and her team assemble bolts, nuts and washers that are used to build the towers for the power project. The days are long, but it's necessary to make sure the tower assembly crews stay on track.
We assemble "20-25 pails of bolts and nuts a day," she says. "There are maybe 300 to a pail" depending on the size.
And once the bolts have been organized, next is the actual tower construction.
Teamwork to build towers
It's a challenging job to build hundreds of towers; quality control on the construction from beginning to end is key.
"There are a couple thousand bolts for each tower," David says, adding that it's critical all of the instructions on the blueprints are followed to make sure the towers are built correctly.
"Once a tower is built, there's always a guy that inspects and makes sure you have the right-sized bolts in there and the steel is on the right way," he says. "There's always (a crew member) coming behind and double checking."
Born to fly
Jim Gibson may not fly the biggest helicopter that will be used on the I1K power line project in northern Saskatchewan. But the Victoria, B.C., pilot who grew up in Winnipeg has seen a lot over his 35-year career that would leave the average person both shocked and awe-inspired at the same time.
"You're going over mountains, through weather over Lake Louise with nice scenery. It's exciting and it's part of your job," he says, describing the picturesque flight from the Pacific Coast to northern Saskatchewan. "It's also fun. It's something a lot of people would never ever get to do."
Love at first flight
Flying is in Jim's blood; his father worked as a pilot for Air Canada for a number of years.
So Jim went through the process of taking some test flights and obtained his licence. Feeling adventurous, he noticed helicopters. And after his first flight – that was it.
"I grew up wanting to be a hockey player," he laughs. "My Dad never forced any of us to fly (but) said there was only one reason you fly and that's because you love it. And if you love it, you'll be good at it, and if you are good at it, you'll have a good career."
Without question, Jim's favourite part of the job is the scenery. He's been all over North America with memorable flights to California, across the U.S. and all along the east coast through Montreal. But he admits the challenge and dangers that come with the job are never too far from his mind.
Communication and experience key
One of the first jobs for Jim and the Helifor crew was to hook up and then lift machines on a 200-foot tether and set them into place along the construction route of the I1K power line.
"There's times where it's work and our phrase is always 'watch out for the sucker punch' because when things are at their best and everything is running well and everything is just sweet, that's when you can get blinded by something you're not looking at – and believe me I've had that happen and it just makes you a better pilot."
But just how dangerous can this work be?
"There are people that have lost their lives doing the jobs that we do – not only in the air, but on the ground too. They're all with us whenever we're doing a job so our safety standards are high because we're honouring them.
"The guys who work on the machines are unreal," Jim says. We're working these machines really hard, lifting and setting loads weighing 19,000 pounds or more, "at their designed max of power or gross weight and they can do that for 11 hours a day – I don't know of another machine that can do that, especially something that's in the air."
Because of the potential dangers of the job, communication and experience is critical.
"What we truly do not worry about is someone's fragile ego up here on any job," he says matter-of-factly. "Our standards are our standards and if your standards aren't our standards we will do our best to educate you to our standards."
Setting the towers
Once everything is built on the ground, a whole new crew is required to set each of the 760 towers for the project.
"Two ground crewmen hook the tower rigging to the helicopter, while the foreman maintains radio contact with the helicopter," says Bob Millar, Construction Manager with Valard.
The towers can weigh as little as 9,000 pounds (4,082 kg) and as much as 25,000 pounds (11,339 kg). The pilots then need to lift and fly the tower up to 80 kilometres away to set it up.
"When they arrive on-site, the tower is first placed beside the foundation and guy wires are removed by the ground crew," Bob says. The ground foreman then instructs the tower to be lifted and placed on the foundation. Once the crew attaches the guy wires to the ground, the helicopter releases the tower. Depending on the distance between where the towers are lying and where they need to be set up, he says a maximum of 15 can be erected per day.
And once all the towers are set, 280 kilometres of cable needs to be strung between them.
Calm under pressure
Helicopter pilot Jim Gibson says he's fortunate to work with a strong team that knows the job, the risks and what's required to be successful. He says it's this kind of team that helps everyone get through the tough times.
"There's times when there's a stress level of 50 on a scale of 1 to 10 and that's when we can rely on each other. When you see somebody going through something you can just stop and just have a good talk – that's what I think a good team is."
The teamwork and perseverance of hundreds of men and women make projects like I1K a success, and allow us to bring reliable power to a growing northern Saskatchewan.
Learn more: